Announcements
The latest news and announcements for Alliant Energy retirees.
How we choose solar sites

Our Illuminate customer blog recently included an article explaining how we choose sites for solar projects. It starts with mutual interest between our company and landowners who want to lease their land for a solar site. Then we consider several criteria before sealing the deal.
Project size vs. parcel size: It takes five to seven acres of land to produce one megawatt of solar energy. Is there enough suitable land available to match the energy needs of customers in the area?
Topography and access: Hills aren't deal breakers, but if the slope is too much, it may not be cost-effective to develop.
Environmental considerations: While solar is a clean energy, siting a project in environmentally sensitive land or an area that negatively impacts wildlife is not appropriate.
Learn more about how we select the right site for our company, landowners and the environment by reading the full post.
Threat alert: Cybercriminals pose as the IRS in recent phishing campaigns
Attackers use fake tax form notifications to spread malware through infected attachments and websites
It's tax season. Tax-related scams and phishing attacks are on the rise. There are multiple phishing attacks going around in which attackers pose as the Internal Revenue Service (IRS).
The messages claim that you need to download and review a tax form. You are instructed to either download an attachment (such as a Word, Excel or ZIP file) or click a link to a password or CAPTCHA-protected website to access these tax forms.

These downloads contain malicious software, also known as malware, that can give cybercriminals access to and control over your device.
Here are some examples of the emails.



The IRS will not initiate contact with taxpayers via email, text messages or social media to request personal or financial information. Regard all unexpected communications you receive purporting to be from the agency as suspicious. Keep these tips in mind when dealing with suspected IRS-themed phishing emails:
Do not reply.
Do not preview, open or download attachments.
Do not click on any links.
For additional advice on dealing with suspected IRS-themed scams, visit the IRS website at www.irs.gov/privacy-disclosure/report-phishing.
Mark your calendars: 2022 Retiree Reunions
You have been missed! Alliant Energy retirees are invited to attend one of our four Retiree Reunions this spring. The cost of the luncheons are covered by Alliant Energy, and each retiree may bring a guest.
At the meetings, you will have an opportunity to hear updates from company executives, receive information on Alliant Energy Foundation programs and
network with old friends.
Visit the Retiree Reunions page for all the details.
We've been named to Newsweek's America's Most Responsible Companies 2022 List
Alliant Energy has been named to Newsweek's 2022 list of America's Most Responsible Companies. This prestigious list is presented by Newsweek and Statista Inc., the world-leading statistics portal and industry ranking provider. The list, which spans 14 industries, recognizes the top 499 most responsible companies in the United States.
"We are pleased to once again be honored as one of America's Most Responsible Companies and to have our environmental, social and governance efforts so highly recognized," said Barbara Tormaschy, vice president and treasurer of Alliant Energy. "Our actions are guided by our values and purpose, which center on serving customers and building stronger communities. We emphasize improving workplace diversity, equity and inclusion and are also proud to be a leader in the transition to generating cleaner sources of energy, such as wind and solar. It's this combined commitment to our employees, our customers and our environment that earns us placement on this prestigious list."
Form 1099 information
It's that time of year again – Wells Fargo (not Alliant Energy) will be issuing your Form 1099 for tax preparation shortly. Those documents will be mailed no later than January 31. Please be aware that the postal service will be inundated with similar mailings from many companies at this time, so it will not be unrealistic for these tax forms to arrive at your address (the address on file at Wells Fargo at year end) throughout the first part of February.

Customer Service folks will not be able to honor requests for duplicate Form 1099's until at least February 15. You may recall our recent announcement of the new Your Pension Care Team so if you have not received the document by mid-February, you may contact our new Your Pension Care Team directly at1-844-808-9007.
Additionally as a reminder for those retirees with their pensions issued by Wells Fargo Bank – in the future, all pension related questions should be directed to the above Your Pension Care Team at the phone number noted.
For those of you with pensions administered by Principal Financial Group, please follow the above timeline as well …if your documents have not arrived by mid-February, you can contact the Customer Service group for Principal at 1-800-247-7011. And for clarification, all your pension-related questions should continue to be directed to Principal Financial Group.
Willis Towers Watson to manage pension customer service
No change to pension plan benefits – just faster, easier ways to get answers.
We are pleased to announce that starting January 1, 2022, Willis Towers Watson will take on the administration of our pension plan. The move will provide faster, more robust customer service and self-service for our retirees in pension, pension-eligible employees and pension-eligible former employees. Additionally, retirees under age 65 will start paying their health/benefits premiums directly to our Benefits Service Center, rather than have them deducted from their pension payment.

For all retirees in pension:

Willis Towers Watson, a leading industry expert in pension administration will take on the customer service responsibilities of our plan. Starting January 3, you will have a dedicated service center, Your Pension Care Team as well as a secure website with helpful tools and self-serve options.

Your Pension Care Team will be your primary contact for pension-related questions and coordinating address, direct deposit and tax withholding changes and the annual Form 1099. You can contact Your Pension Care Team at Willis Towers Watson in one of two ways:
Your Pension Care Team: Beginning January 3, 2022, you can call 1-844-808-9007 to speak with a representative in our dedicated pension service center. Representatives are available to assist you Monday through Friday, 8 a.m. to 5 p.m. Central Time.
Online self-service site: Go to eepoint.towerswatson.com/sites/alliant/ess to make any address, direct deposit or tax changes related to your pension benefit and print a pension verification. You can also submit questions to the Your Pension Care Team through the website.
For Under-65 retirees in pension

If you use our health plan and other benefits, starting January 1, 2022, you will need to submit your premium payments to our Alliant Energy Benefits Service Center. Premiums will no longer be deducted from your monthly pension payment.
You'll have more choice in how you pay your premiums. You can pay by check, make one-time payments online or by phone or set up automatic withdrawal from a bank account.
And, since your premiums won't come out of your pension payment, your monthly check or deposit will be that much bigger. Please note – health plan benefits, premium amounts, deductibles, coinsurance and all other services remain the same.
For all our retirees, we want to assure you that these updates do not affect your pension plan benefits. We will continue to oversee the pension trust and benefits in the plan. Watch your mailbox for letters with all the details. If you have questions, please call our Benefits Service Center at 1-866-303-1891.
How do you use your energy: Watch our new commercial!
Our
marketing campaign
has helped share our story and connect with our customers in new ways. We hit it out of the park with our first commercial, and now we've transitioned into a new season.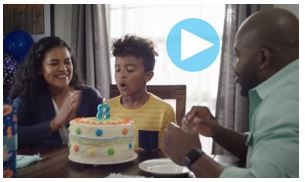 With our
second commercial
, we're mixing up smiles and celebrating those we love. You've probably already seen it on a screen near you, but take a quick 30-second peek of how we're powering what matters most to you.
For more stories, videos and new ways of communicating our message, check out
alliantenergy.com/poweringbeyond
, and follow along on our journey.
A LightLine™ for pedestrians and bicyclist
We're the "power" behind the name for the new ConnectCR bridge
On Wednesday, ConnectCR announced the name of the new bridge connecting Czech Village and the New Bo district in Cedar Rapids: the Alliant Energy LightLine™. The name reflects the history of the bridge as part of the shortline CRANDIC railway and the lights our company will power to highlight the bridge's rails and pylon. The bridge will provide a unique element to Cedar Rapids' segment of the American Discovery Trail for pedestrians and bicyclists.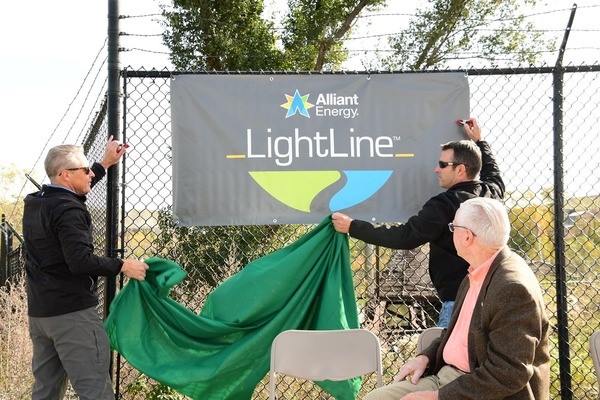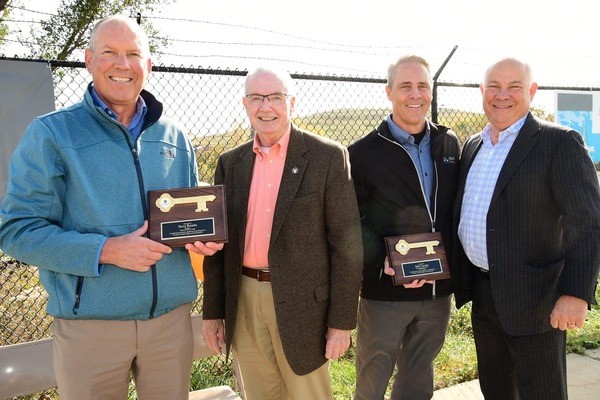 "Alliant Energy is proud to partner with the City of Cedar Rapids, ConnectCR and community leaders to improve the quality of life for residents," said Terry Kouba, President of our Iowa energy company. "We are excited for the Alliant Energy LightLine to connect neighborhoods and trails as a new iconic landmark in the community."

The project is currently in the engineering phase, with design intended to honor the industrial history of the area and the bridge's location at the former CRANDIC railroad bridge.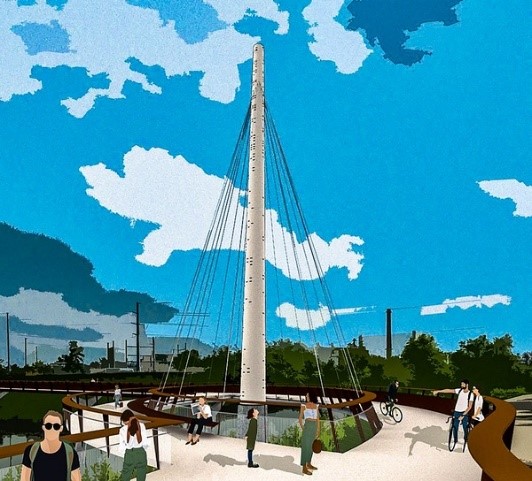 Construction will begin in 2023 with completion scheduled for 2024.
The Alliant Energy LightLine is part of the ConnectCR Project, the largest public-private partnership in Cedar Rapids, which includes over $8 million in private funds (including $1 million donated by Alliant Energy).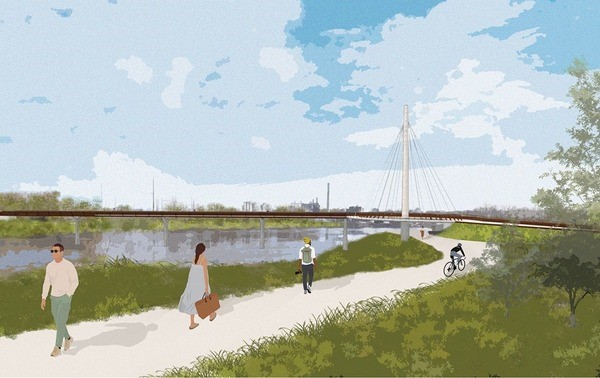 Paving the way forward
Our foundation helps Wisconsin River Trail Organization build a stronger community
The city of Boscobel, located along the Wisconsin River north of Platteville, has long been a beautiful place for kayaking and recreation. The Wisconsin River Trail Organization (WRTO) is also turning it into a destination for biking and hiking with a new trail.
The Alliant Energy Foundation is helping pave the way for phase two of trail construction. We awarded a $7,500 Impact Grant to the project. The expanded, handicap-accessible trail will bring new tourists and economic activity to Boscobel, but it's more than that. Just outside of Boscobel lies a neighborhood of low-income housing. Phase two of this trail provides a safe and accessible path for children and families in the neighborhood to venture into town and take part in their community.
How we use our energy to do more
Our support goes beyond the grant! Our Marketing & Communications team helped WRTO create a video to tell their story and raise additional funds.
Watch the video here.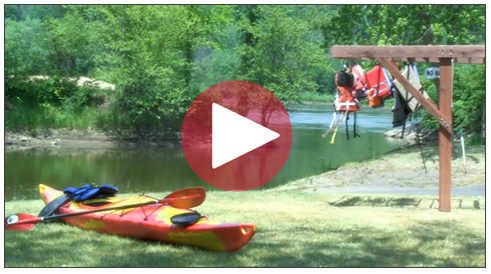 We also donated two new solar benches to install along the trail. While trail-goers take a break to recharge their inner batteries, they can charge their phones at the same time.

"For our Foundation and Community Affairs Team, building stronger communities isn't just about writing a check," said Julie Bauer, Executive Director of the Alliant Energy Foundation. "We're always looking for ways to go the extra mile to make these projects a success and make our employees proud to work for Alliant Energy.

If you'd like to learn more about the WRTO trail in Boscobel, visit WiRiverTrail.org. Learn more about our Impact Grants here.
Earn while you learn
Featuring our employees and industry opportunities
Our future leaders continue to seek outgrowth opportunities in unique ways. Check out page six of this Iowa Energy Career Pathways publication! Two of Alliant Energy's successful initiatives are featured, the Pre-Apprentice Laborer (or PALs, as they call it in Iowa) program and the paid high school internship program.

Lori Wildman, Training Specialist, is quoted saying, "These new programs allow us to continue building relationships with bright and talented people across Iowa while representing the communities Alliant Energy serves."
New to Iowa and beyond
The Intro to Utility Basics online course and the high school internships (for juniors and seniors) were pilots in Iowa this year and developed in partnership with Technical Training and our training partner, Iowa Valley Continuing Education. As we move forward, they will continue and expand across Iowa. We are also initiating conversations to expand the intro class across Wisconsin.

The pre-apprentice program in Iowa (called the semi-skilled laborers program in Wisconsin) is new. And the success stories keep on coming!

These programs have all been championed by our Diversity, Equity and Inclusion Leadership Team as avenues to attract and prepare future job candidates who reflect diverse populations in our communities.

This is one way we can teach others about opportunities in the energy industry. Find details on our Career Programs page.


Customers at Iowa State Fair signed up for My Account and helped neighbors
The Iowa State Fair was a huge success in August, and our Alliant Energy booths were open in the Varied Industries building and the Agriculture building. Visitors played with fun backdrops for photos (above), plus a way to help their neighbors in derecho-impacted communities.
We posted signage about a special tree donation promotion. When they snapped the QR code on the sign, they could sign up for an email or phone call to help them enroll in My Account after the fair.

Each My Account enrollment from the QR code was matched with a tree planted in a derecho-impacted area. If you're a customer yourself, go enroll in My Account now!
One Million Trees for 1 million customers
Getting ready to grow over the next decade
We recently released our 2021 Corporate Responsibility Report where we first announced our commitment to plant One Million Trees over the next decade. Each tree represents one of the utility customers we serve.

As these trees grow, they'll provide shade for people and a natural habitat for wildlife. They'll also contribute to greenhouse gas reduction and improve water quality – all while making the future a little greener for our communities for generations to come.

To make this happen, we'll collaborate with organizations focusing on public forest restoration and preservation, urban forestry and nonprofit partners dedicated to tree planting efforts in communities and rural areas across Iowa and Wisconsin.
Learn more (scroll to bottom of page)