Announcements
The latest news and announcements for Alliant Energy retirees.
Sheboygan and Kohler solar projects sunning, running and now producing clean energy
Shining examples of our Alliant Energy® Customer-Hosted Renewables program

Two Alliant Energy® Customer-Hosted Renewables projects, the City of Sheboygan Solar Field and Kohler Solar Field, are now operational.

The two projects highlight the flexibility of the Alliant Energy® Customer-Hosted Renewables program, working with both public and private customers to make meaningful advancements in clean energy. In total, the 3.25 megawatts of renewable energy from the projects could generate enough electricity to power roughly 760 homes annually.

"We are pleased to advance our transition to clean energy with the completion of the City of Sheboygan and Kohler solar projects," said David de Leon, President of our Wisconsin energy company. "Sheboygan-area residents will have access to the energy generated from these solar fields – just another example of how we keep customers at the heart of everything we do."

Shining on Sheboygan
The City of Sheboygan Solar Field utilizes space at the Sheboygan Business Center for a 1-MW solar project. The city will showcase the benefits of clean energy while receiving lease payments for 25 years.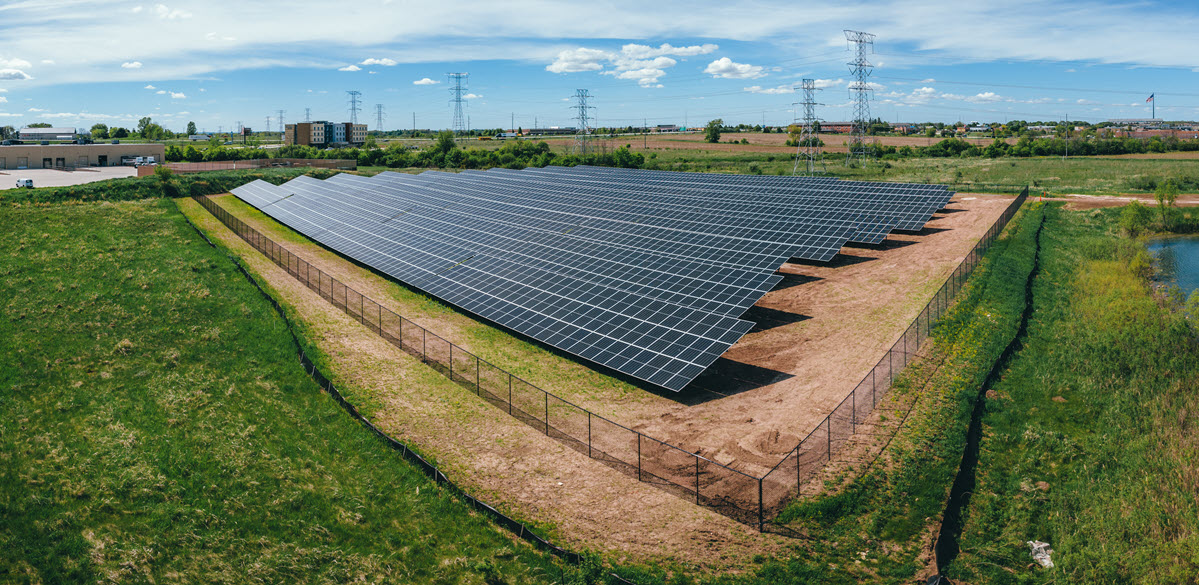 Solar at Kohler
The Kohler Solar Field is a 2.25-megawatt (MW) solar project on Kohler Co.'s property. It's one of several environmental initiatives Kohler has undertaken since 2008 as it aspires to reach net-zero greenhouse gas emissions by 2035. They have eight more solar projects in development.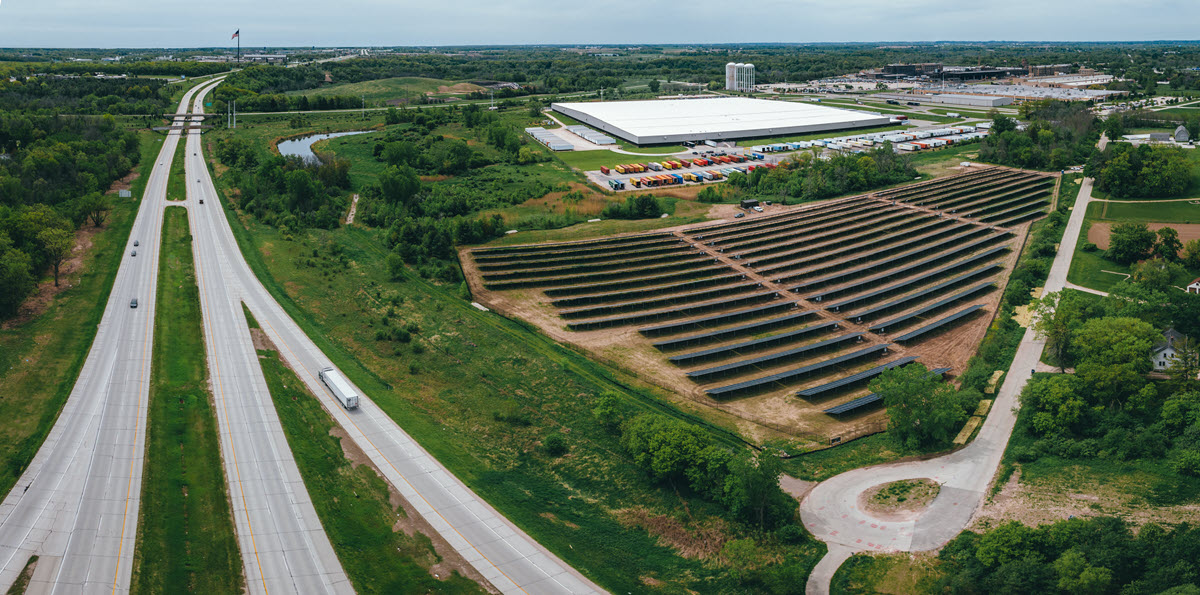 Commitment to clean energy
These projects fall under our Clean Energy Blueprint, which is a roadmap to achieving our clean energy goals of net-zero carbon dioxide emissions from the electricity we generate by 2050. Investing in renewables allows us to provide affordable, safe and reliable energy for years to come.

Visit alliantenergy.com/solar for more information.
Beware of solar scams
As a precaution to our employees and customers, we are sharing the latest scam from bad actors pretending to be affiliated with solar installation companies.

Remember to disregard those phone calls and avoid giving out any personal information. As a way to #StopScams, here are some signs to look out for.
Recognize signs of heat stroke
Earlier this month, Julie Vande Hoef, Manager – Executive Engagement and Strategic Projects, sprang into action in an emergency. She and her husband were attending Collective Soul's outdoor concert in Council Bluffs. Suddenly, a concert goer next to them collapsed!

She said she immediately recognized signs of heat stroke. "I took his pulse and reassured his spouse that it was likely heat stroke, while my husband alerted event and medical staff," she explained. "The man woke up moments later and the medical staff shared that it was, in fact, heat stroke."
So what are the signs of heat stroke? Mayo Clinic outlines common symptoms.
Alliant Energy employee appears on GMA
Earlier this month, life threw a big bone to Alliant Energy employee Lisa Moller, Manager – Physical Security. She appeared on Good Morning America (GMA) with her two Bracco Italiano dogs, Nigel and Beretta.
GMA revealed the American Kennel Club (AKC) added the Italiano Bracco as the 200th dog breed on their list of official members. Lisa and her really good boy and good girl traveled to the Big Apple to celebrate with GMA hosts T.J. Holmes, Robin Roberts and George Stephanopoulos.
"We've been waiting quite a few years for this," Lisa told the hosts. She's been showing Nigel for several years, but said her breeder had been waiting 13 years for the designation. "It's been a long process to get here."
Watch Lisa, Nigel and Beretta's debut on GMA,
right here.
Bridging the digital divide
In June we shared the exciting news that we're partnering with Mt. Horeb Telephone Company to provide a major boost to broadband service in rural Wisconsin.

Construction is now underway in Hollandale to bring up to 2-gig internet service to about 150 households and businesses in the area.

We met with MHTC representatives, the Hollandale Village Clerk-Treasurer and Tri-State representatives on-site to view the progress of the project, which is expected to be operational in September of this year. Tri-State is the contractor selected by MHTC to construct the project.
Broadband speaker series sheds light on the digital divide
The digital divide represents the gap in access to reliable and affordable high-speed internet service. This gap is especially pronounced in less densely populated rural areas and among financially disadvantaged customers and communities.
For the majority of Alliant Energy's customers, and for tens of millions of Americans nationwide, circumstances like these are reality. In fact, 67% of our customers in Wisconsin and 75% of our customers in Iowa lack access to reliable and affordable broadband service.

Inequities continue to expand and are impacting so many individuals across our nation. To truly address racial and social injustice and to advance diversity, equity and inclusion—equal access to essential services is a must.
Alliant Energy is hosting a speaker series to bring attention to this important matter. To learn more about this initiative and download materials from speaker events, visit our Broadband webpage.
Smart thermostats helping customers cool smarter
Smart Hours program now open in Wisconsin
Wisconsin customers can now enroll in our Alliant Energy® Smart Hours program to save energy, earn rewards and take the heat off peak demand.
Smart Hours is a demand response program where participants allow us to adjust their smart thermostat a few degrees during occasional periods of high usage or extreme temperatures.
While customers can always control their thermostats, we chose certain times to shift some energy use to periods when energy demand is lower.
By cooling or heating the home at different times of the day, customers stay comfortable and reduce the overall energy demand.
"Smart thermostats give customers more control over their energy use and make it easier than ever to reduce their energy bills," said Kari Gehrke, Manager of Demand Side Management. "This is a simple way to save money and reduce their carbon footprint at the same time."
What's in it for us?
The program helps us use more environmentally friendly energy sources to meet electricity demand on extremely hot and cold days. By relying on cleaner, more energy-efficient sources, we can keep electricity costs lower for all customers.
A soft launch of Smart Hours started in April. We had our first demand response events on June 14 and June 21 due to high temperatures. The adjustments for the thermostats operated perfectly, with preliminary demand savings of 1,741 kW and 1,846 kW respectively. Final details on the program performance will be available soon.
To learn more about Smart Hours and to enroll, visit
alliantenergysmarthours.com
.
Growing our first Community Solar garden in Iowa
Cedar Rapids to host the first plot
Cedar Rapids will soon be the home of our first Community Solar garden in Iowa. It will be located north of the 1100 block of 33rd Avenue SW on company-owned property. We've had our eye on the location for growing a solar garden for a long time.

Construction is underway, with estimated completion of late summer 2023. The project is in direct response to customer requests for additional opportunities to access renewable energy.

Growing Community Solar
Our Community Solar program allows our electric customers to enjoy the benefits of solar power without the hassle of installing solar panels on their property. Instead, they can buy blocks of the solar garden. They receive monthly credits on electric bills for every block purchased for the 20-year life of the project. The garden will consist of 18,000 solar blocks. Each 250-watt block will produce an estimated average of 541 kilowatts annually. At max output, the 4.5-megawatt solar project could power 3,600 homes.

"We are excited for our Iowa customers to enjoy the benefits of clean, renewable energy," said Terry Kouba, President of our Iowa energy company. "The Community Solar program is just one more way we can use our knowledge and resources to serve our customers while bringing them options and solutions to meet their needs."

Sowing seeds of solar partnerships
Transamerica and Aegon Asset Management, a global insurance and investment group based in Cedar Rapids, has committed to purchase 60% of the garden's solar blocks and become the anchor tenant for the project.

We're donating up to $400,000 in solar blocks to Cedar Valley Habitat for Humanity homeowners. Those homeowners will receive monthly credits on their bills, too, for the life of the project. The director of Habitat said taking away the pressures of staying housed and keeping the lights on allows families to focus on opportunities to improve their health, transportation, education, employment and more.
Learn more about the project in this blog post.
How we choose solar sites

Our Illuminate customer blog recently included an article explaining how we choose sites for solar projects. It starts with mutual interest between our company and landowners who want to lease their land for a solar site. Then we consider several criteria before sealing the deal.
Project size vs. parcel size: It takes five to seven acres of land to produce one megawatt of solar energy. Is there enough suitable land available to match the energy needs of customers in the area?
Topography and access: Hills aren't deal breakers, but if the slope is too much, it may not be cost-effective to develop.
Environmental considerations: While solar is a clean energy, siting a project in environmentally sensitive land or an area that negatively impacts wildlife is not appropriate.
Learn more about how we select the right site for our company, landowners and the environment by reading the full post.
Threat alert: Cybercriminals pose as the IRS in recent phishing campaigns
Attackers use fake tax form notifications to spread malware through infected attachments and websites
It's tax season. Tax-related scams and phishing attacks are on the rise. There are multiple phishing attacks going around in which attackers pose as the Internal Revenue Service (IRS).
The messages claim that you need to download and review a tax form. You are instructed to either download an attachment (such as a Word, Excel or ZIP file) or click a link to a password or CAPTCHA-protected website to access these tax forms.

These downloads contain malicious software, also known as malware, that can give cybercriminals access to and control over your device.
Here are some examples of the emails.



The IRS will not initiate contact with taxpayers via email, text messages or social media to request personal or financial information. Regard all unexpected communications you receive purporting to be from the agency as suspicious. Keep these tips in mind when dealing with suspected IRS-themed phishing emails:
Do not reply.
Do not preview, open or download attachments.
Do not click on any links.
For additional advice on dealing with suspected IRS-themed scams, visit the IRS website at www.irs.gov/privacy-disclosure/report-phishing.
Mark your calendars: 2022 Retiree Reunions
You have been missed! Alliant Energy retirees are invited to attend one of our four Retiree Reunions this spring. The cost of the luncheons are covered by Alliant Energy, and each retiree may bring a guest.
At the meetings, you will have an opportunity to hear updates from company executives, receive information on Alliant Energy Foundation programs and
network with old friends.
Visit the Retiree Reunions page for all the details.
We've been named to Newsweek's America's Most Responsible Companies 2022 List
Alliant Energy has been named to Newsweek's 2022 list of America's Most Responsible Companies. This prestigious list is presented by Newsweek and Statista Inc., the world-leading statistics portal and industry ranking provider. The list, which spans 14 industries, recognizes the top 499 most responsible companies in the United States.
"We are pleased to once again be honored as one of America's Most Responsible Companies and to have our environmental, social and governance efforts so highly recognized," said Barbara Tormaschy, vice president and treasurer of Alliant Energy. "Our actions are guided by our values and purpose, which center on serving customers and building stronger communities. We emphasize improving workplace diversity, equity and inclusion and are also proud to be a leader in the transition to generating cleaner sources of energy, such as wind and solar. It's this combined commitment to our employees, our customers and our environment that earns us placement on this prestigious list."
Form 1099 information
It's that time of year again – Wells Fargo (not Alliant Energy) will be issuing your Form 1099 for tax preparation shortly. Those documents will be mailed no later than January 31. Please be aware that the postal service will be inundated with similar mailings from many companies at this time, so it will not be unrealistic for these tax forms to arrive at your address (the address on file at Wells Fargo at year end) throughout the first part of February.

Customer Service folks will not be able to honor requests for duplicate Form 1099's until at least February 15. You may recall our recent announcement of the new Your Pension Care Team so if you have not received the document by mid-February, you may contact our new Your Pension Care Team directly at1-844-808-9007.
Additionally as a reminder for those retirees with their pensions issued by Wells Fargo Bank – in the future, all pension related questions should be directed to the above Your Pension Care Team at the phone number noted.
For those of you with pensions administered by Principal Financial Group, please follow the above timeline as well …if your documents have not arrived by mid-February, you can contact the Customer Service group for Principal at 1-800-247-7011. And for clarification, all your pension-related questions should continue to be directed to Principal Financial Group.
Willis Towers Watson to manage pension customer service
No change to pension plan benefits – just faster, easier ways to get answers.
We are pleased to announce that starting January 1, 2022, Willis Towers Watson will take on the administration of our pension plan. The move will provide faster, more robust customer service and self-service for our retirees in pension, pension-eligible employees and pension-eligible former employees. Additionally, retirees under age 65 will start paying their health/benefits premiums directly to our Benefits Service Center, rather than have them deducted from their pension payment.

For all retirees in pension:

Willis Towers Watson, a leading industry expert in pension administration will take on the customer service responsibilities of our plan. Starting January 3, you will have a dedicated service center, Your Pension Care Team as well as a secure website with helpful tools and self-serve options.

Your Pension Care Team will be your primary contact for pension-related questions and coordinating address, direct deposit and tax withholding changes and the annual Form 1099. You can contact Your Pension Care Team at Willis Towers Watson in one of two ways:
Your Pension Care Team: Beginning January 3, 2022, you can call 1-844-808-9007 to speak with a representative in our dedicated pension service center. Representatives are available to assist you Monday through Friday, 8 a.m. to 5 p.m. Central Time.
Online self-service site: Go to eepoint.towerswatson.com/sites/alliant/ess to make any address, direct deposit or tax changes related to your pension benefit and print a pension verification. You can also submit questions to the Your Pension Care Team through the website.
For Under-65 retirees in pension

If you use our health plan and other benefits, starting January 1, 2022, you will need to submit your premium payments to our Alliant Energy Benefits Service Center. Premiums will no longer be deducted from your monthly pension payment.
You'll have more choice in how you pay your premiums. You can pay by check, make one-time payments online or by phone or set up automatic withdrawal from a bank account.
And, since your premiums won't come out of your pension payment, your monthly check or deposit will be that much bigger. Please note – health plan benefits, premium amounts, deductibles, coinsurance and all other services remain the same.
For all our retirees, we want to assure you that these updates do not affect your pension plan benefits. We will continue to oversee the pension trust and benefits in the plan. Watch your mailbox for letters with all the details. If you have questions, please call our Benefits Service Center at 1-866-303-1891.
How do you use your energy: Watch our new commercial!
Our
marketing campaign
has helped share our story and connect with our customers in new ways. We hit it out of the park with our first commercial, and now we've transitioned into a new season.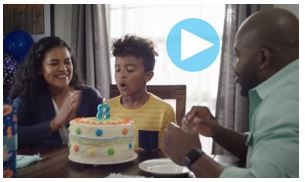 With our
second commercial
, we're mixing up smiles and celebrating those we love. You've probably already seen it on a screen near you, but take a quick 30-second peek of how we're powering what matters most to you.
For more stories, videos and new ways of communicating our message, check out
alliantenergy.com/poweringbeyond
, and follow along on our journey.
A LightLine™ for pedestrians and bicyclist
We're the "power" behind the name for the new ConnectCR bridge
On Wednesday, ConnectCR announced the name of the new bridge connecting Czech Village and the New Bo district in Cedar Rapids: the Alliant Energy LightLine™. The name reflects the history of the bridge as part of the shortline CRANDIC railway and the lights our company will power to highlight the bridge's rails and pylon. The bridge will provide a unique element to Cedar Rapids' segment of the American Discovery Trail for pedestrians and bicyclists.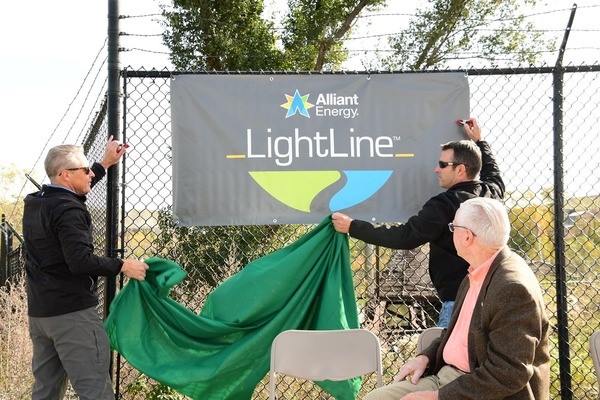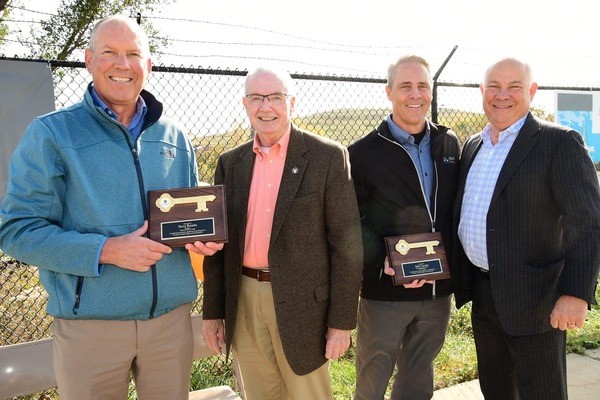 "Alliant Energy is proud to partner with the City of Cedar Rapids, ConnectCR and community leaders to improve the quality of life for residents," said Terry Kouba, President of our Iowa energy company. "We are excited for the Alliant Energy LightLine to connect neighborhoods and trails as a new iconic landmark in the community."

The project is currently in the engineering phase, with design intended to honor the industrial history of the area and the bridge's location at the former CRANDIC railroad bridge.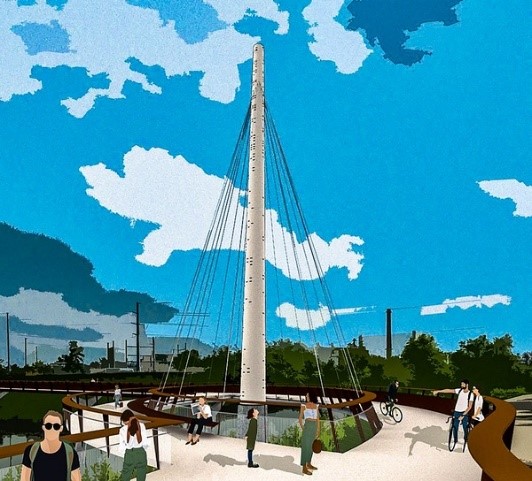 Construction will begin in 2023 with completion scheduled for 2024.
The Alliant Energy LightLine is part of the ConnectCR Project, the largest public-private partnership in Cedar Rapids, which includes over $8 million in private funds (including $1 million donated by Alliant Energy).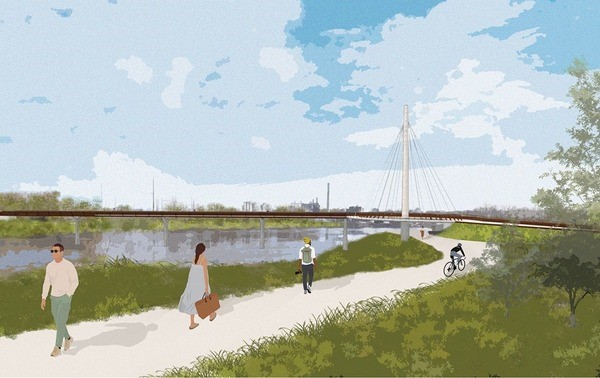 Paving the way forward
Our foundation helps Wisconsin River Trail Organization build a stronger community
The city of Boscobel, located along the Wisconsin River north of Platteville, has long been a beautiful place for kayaking and recreation. The Wisconsin River Trail Organization (WRTO) is also turning it into a destination for biking and hiking with a new trail.
The Alliant Energy Foundation is helping pave the way for phase two of trail construction. We awarded a $7,500 Impact Grant to the project. The expanded, handicap-accessible trail will bring new tourists and economic activity to Boscobel, but it's more than that. Just outside of Boscobel lies a neighborhood of low-income housing. Phase two of this trail provides a safe and accessible path for children and families in the neighborhood to venture into town and take part in their community.
How we use our energy to do more
Our support goes beyond the grant! Our Marketing & Communications team helped WRTO create a video to tell their story and raise additional funds.
Watch the video here.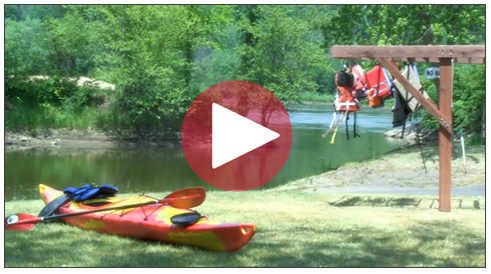 We also donated two new solar benches to install along the trail. While trail-goers take a break to recharge their inner batteries, they can charge their phones at the same time.

"For our Foundation and Community Affairs Team, building stronger communities isn't just about writing a check," said Julie Bauer, Executive Director of the Alliant Energy Foundation. "We're always looking for ways to go the extra mile to make these projects a success and make our employees proud to work for Alliant Energy.

If you'd like to learn more about the WRTO trail in Boscobel, visit WiRiverTrail.org. Learn more about our Impact Grants here.